Climate change is widely recognised as one of the most crucial future health risks and a threat to sustainable development. Vietnam is expected to suffer "considerable adverse consequences because of climate change" (Rubin, 2014, p69). Yet, few studies have been done in Vietnam. In particular, information and evidence on the relationships and their implications are not available in different regions of the country and various communities. In the effort to address this gap, this study will investigate health impacts of climate change among ethnic minorities living in highland regions in central Vietnam. Findings from this research will help establish effective strategies for this population to increase their resilience to climate change.
The proposed study embraces two main goals. Firstly, it aims to explore the relationships between climate change (including extreme events and natural disasters – droughts, flash-floods, landslides) andtrends of certain diseases, including cardiovascular diseases, malnutrition, malaria and other vector-borne diseases, that impact upon ethnic minority groups living in the highland areas of central Vietnam in the 5 year-period from 2010 to 2014. Additionally, it will describe the current awarenessand preparedness of these local communities and health sectors about the health effects of climate change in this area.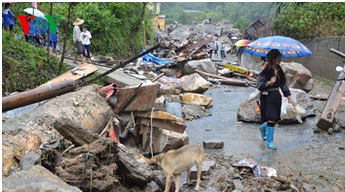 Due to the two aims of this study, the research can be divided into two separate parts. In the first part, we will conduct a time series regression study, using secondary data from medical records and hydro-meteorological records from 2010 to 2014. This part will examine the associations of health effects and environmental events in the targeted area. In addition, a cross-sectional study will be implemented, using Mixed Methods (quantitative and qualitative methods) to assess the awareness and preparedness of those ethnic minorities and health sectors for the impacts of climate change. This part of study comprises a survey for quantitative information, using the Knowledge, Attitudes and Practices – KAP- questionnaire. Moreover, in-depth interviews (with representatives from health sectors, hydro-meteorological departments and leaders of targeted groups) and focus group discussions (among ethnicminorities groups and health workers) will be conducted to build deeper understandings of their awareness, preparedness and demandsto deal with these impacts.